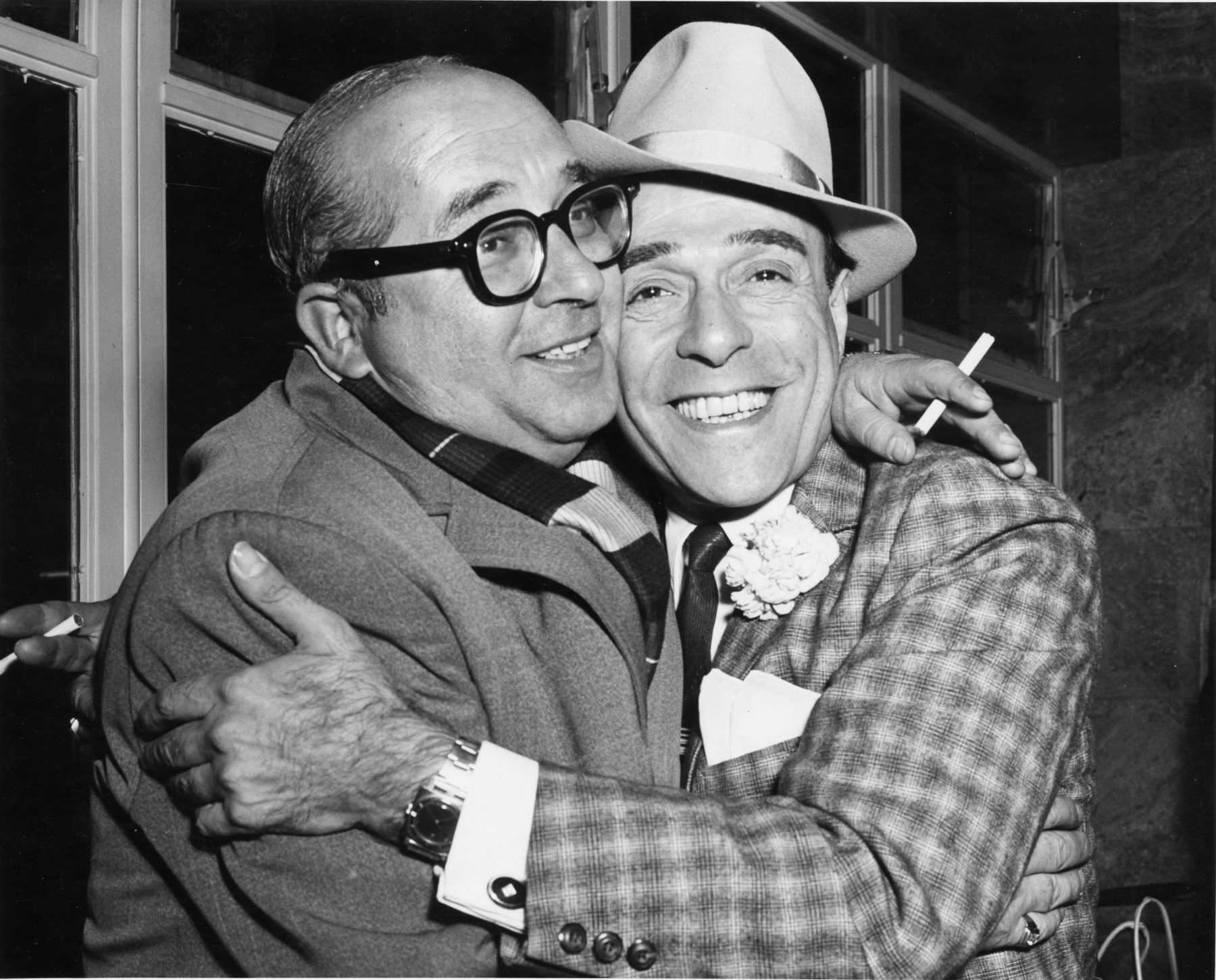 "S'iz nisht dos vos amol iz geven": Max Perlman (1909-1985)
Of all the Yiddish entertainers to have visited South Africa after the Holocaust, Max Perlman—who visited on at least four different occasions between 1949 and 1972—is virtually the only artist who is still remembered today. During his last tour to South Africa in 1972, journalist Chaim Lewis described him as "an artist to his fingertips—he snake charms the audiences. The measure of his magic are the smiling faces of the audience." 1 In the Jewish Chronicle of London, he was once described as the Yiddish comedian "with the friendliest smile on the Yiddish stage," 2 or in the words of the New York Times, "an engaging comedian, who uses a hat and a tremendous smile as props." 3
Yet despite a long and successful career that stretched from Riga and Kovno to South America, Europe, South Africa, Israel, the United States, and Australia, Max Perlman has been largely excluded from the historical canon of Yiddish performance. This has been attributed by academics to the style of his songs, which have been deemed gaudy and vulgar, and the mundane themes that he dealt with. They do not dispute his popularity and acknowledge that his wordplay and use of everyday or racy themes are precisely the aspects that remain in the memory of his audiences. 4 However, a more practical reason for this omission, in my opinion, must also be attributed to the itinerant nature of his career, making it difficult to keep track of his performances and to flesh out his life.
This article would not have been possible without making contact with Menora Zahav. Living today in Tel-Aviv, Zahav was Perlman's stage partner in his later career. Incorrectly described as "South African born," Zahav was in fact born in Paris. 5 She, her younger sister, and her mother, Yiddish actress, Niusia Gold, survived the Holocaust hidden by a French family, before eventually moving to Israel. Zahav first encountered Perlman in Johannesburg, where her family was living between 1950 and 1961, while her mother was producing Yiddish theatre with the local amateurs. 6 She first performed with Perlman on his 1951 Johannesburg tour at the age of just fifteen and a half. When her family returned to Israel in 1961, she performed with him there and accompanied him on tours to Europe, South America, South Africa, and, on one occasion, the United States. When Guita Galina, Perlman's wife, was no longer able to play the young ingénue roles, Zahav took over as his stage partner. 7
This article relates to Perlman's career in the post-Holocaust era and to his tours to South Africa, London, Israel, and the US. It is here that we see how Perlman's performances represent both the normalization of Jewish life after the Holocaust, and the establishment of the State of Israel—his home base from the late 1950s on. His pride in the establishment of a Jewish homeland and in the transformation wrought in Jewish life is central to his oeuvre. In the words of Bruce Oppenheimer, a South African-Israeli who first saw him in Cape Town, then again in Israel, "I loved Max Perlman… I loved the jaunty, cocksure persona that came across so vividly, nothing like the Yiddish speakers that I knew at the time, who were old, spoke bad English, and of whom I was a bit ashamed. He represented a confident and glorious Yiddish, risen from the Holocaust." 8
Born in 1909 into a middle-class Jewish family in Riga, the capital city of Latvia, Max Perlman is typical of many of the Yiddish actors of his day. At the age of six, he sang in the choir of Cantor Rozovski and soon after began to play children's roles in the Yiddish theatre. He studied in the dramatic studio of the Peretz Club and began performing both in the Russian and in the Yiddish theatre. With the founding of the New Yiddish Theatre in Riga, he turned professional. Between 1928 and 1934 he performed between Kovno and Riga. Perlman met Guita Galina, who was also from Riga, in the theatre where she had already made a name for herself. Together they performed in Czechoslovakia, Vienna, London (at the Pavilion Theatre), as well as in Liverpool, Leeds, Manchester, and Glasgow. They spent a year in Paris and Belgium. Perlman was also a guest in Poland's Skale Theater, performing all over Poland, as well as in Riga. 9
In 1939, Adolf Mide invited the couple to Buenos Aires, that with its Jewish population of over 250,000, was the second largest Jewish city after New York 10 and one of the world capitals of the Yiddish theatre. 11 There they performed in the company at the Teatro Excelsior for three years, before moving on to Uruguay and to Chile. After the death of Yidding singer-songwriter Jevel Katz (1902-1940), Perlman began performing many of Katz's songs. While Katz had been lauded in a number of publications, Perlman's have been deemed lacking in relevance. 12
South Africa
Once they were able to leave South America after the war, Perlman and Galina continued to tour Europe and South Africa. Buenos Aires was their home base. 13 In 1948/49, 14 1951, and 1953, 15 Sarah Sylvia, a Yiddish actress and impresario who had spent eight years in Buenos Aires between 1926 and 1935, brought them to South Africa. Perlman delighted South African audiences and had the whole community humming his tunes. In 1948, his first musical revue played for eight weeks at His Majesty's Theatre in Johannesburg and drew record audiences. In the first two weeks, 20,000 Jews attended his show, exploding the myth that South African audiences were so Anglicized that they did not appreciate Yiddish. 16 However, Perlman's light-hearted style alienated the Yiddish intellectual elite, dividing the community into three groups:
"First the so-called common man who goes to see light comedy because he likes light comedy, wants an evening's entertainment—and gets it. Secondly the group of kultur-menshn who go to see these light comedies in order to sneer and deride. They speak nostalgically about Great Yiddish Drama and sneak back again to gather more material for derision. The third group are the Super-Purists who have refrained from attending any of these performances, but loudly voice their disapproval. This, they say, is not Yiddish theatre." 17
Years later, Bruce Oppenheimer recalled:
"I saw him in Cape Town in the mid or late fifties and perhaps early sixties. I remember one part very clearly. In the second half of the play, after the audience was warmed up, he pulled down a sort of screen with the words of 'Wu nehmt men a bissele mazel,' and after singing it once with the audience, he sat down on a park bench on stage, lit a cigarette, while the audience sang, with heavy pathos. I recall his sangfroid…, the insouciance , the chutzpa, that he should be having a break and having a smoke."
London
In 1949, 1951, and 1955, Perlman and Galina were in London performing at the Grand Palais in shows, such as Here Comes Grandpa, 18 The Shlemmazl, and The American Litvak. The Jewish Chronicle reported, "It matters little that it is not very original or convincing, the important thing being its suitability as a vehicle for the antics of this most likeable comedian. He is a worm who turns, a shlemazzel who becomes successful, and the clowning, singing and dancing in which he indulges in the process are most entertaining. Guita Galina contributes some charming singing and playing as his wife." 19
Israel
Notwithstanding the language war between Hebrew and Yiddish, Max Perlman was a favorite in Israel. He was even praised by a member of the Hebrew Habima theatre, who said that "the popular Yiddish performer … connected with his audience, and that he [the Habima actor] himself laughed at his jokes." 20
It would seem that Perlman made his grand debut in Israel in 1954, as in the Jewish Chronicle of London on January 8, 1955, it was announced that a: "Yiddish comedian 'conquered' Israel…Their nine month visit to the Jewish state was remarkable." The reporter observed that it was only in the last few years that Yiddish artists had been given any encouragement to perform plays in the Jewish state. And those companies that have done so had met with only moderate success. Max Perlman, however, so endeared himself to Israelis that, towards the end of his stay, people complained that the Habima and other groups were being poorly attended because everyone was flocking to see Perlman. 21 His company performed in Kiryat Motzkin, Tel Aviv, Holon, Ramat Gan, Lydda, Jaffa, Natanya, Haifa, Tiberia, Givatayim, Bat Galim, Pardes Hanna, Petah Tikva, Nahariya, Tel Hanan, Kiryat Hayovel in Jerusalem, Afula, Yehudia, and Emek Yizrael. They were billed as a "Comedy Theatre in Yiddish with participation from guests from the USA." 22 Perlman's popularity in Israel was so great that Avraham Krinitzi, the mayor of Ramat Gan, gave him and his wife a small ground floor apartment there as their home base in Israel. 23
That mayor wasn't his only fan in the Israeli establishment either. Oppenheimer recalls attending a performance of theirs in 1971 or 1972 at the Mitchell Theatre in Jerusalem. He writes, "I sat upstairs and I recall that Golda Meir who was Prime Minister at the time, came in after lights out, with a meagre security detail and sat in front of me. I was so excited and happy to be in the same space as her, watching Yiddish theatre."
It is interesting to compare Max Perlman to the iconic Shimon Dzigan of "Dzigan and Shumacher" fame. Perlman was only four years younger than Dzigan, who was born in 1905 in Łódź, Poland. Both eventually made their homes in Israel. While both are comedians, their personas are very different. Having survived the Holocaust in a Siberian prison, and moved from Warsaw to Israel, Dzigan told jokes reflecting the poverty and hardships experienced by Jews in eastern Europe. Where Dzigan can be viewed as continuing in the eastern European tradition of the "fools of Chelm" and Hershele Ostropolyer, Perlman's image is thoroughly American and middle class. 24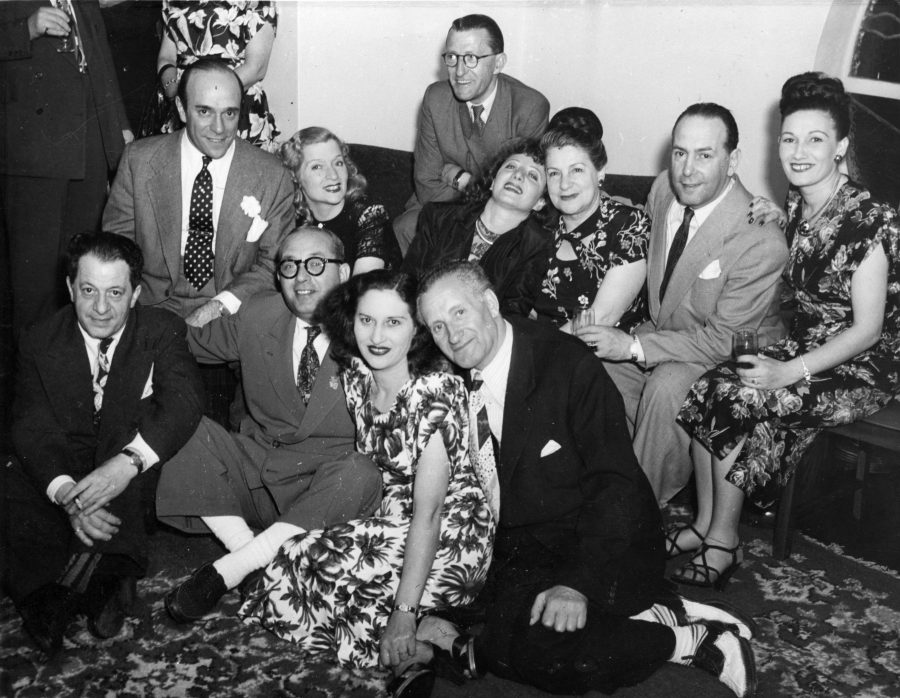 New York
By the time Perlman reached New York, Yiddish theatre was in decline. Between 1962, when he made his debut, and 1984, when he performed there for the last time, the productions had progressively larger proportions of English inserted into the scripts. In 1962, Perlman made his debut at the Roosevelt Theater in the Yiddish comedy by Meyer Ben Yehuda, Honeymoon in Israel. Perlman was praised for his comic ability and warm personality. Reminiscent of his performance in Cape Town, when he pulled down a screen on the stage with the words of the song, "Vu nemt men a bisele mazel" and let the audience sing along while he relaxed on a park bench—in New York he stepped in front of the curtain and got the audience to join him in a Yiddish sing-along "of a song… that he urged them to learn… because it could be used at a bris, wedding or other joyous occasions." 25
The following year, Yiddish theatre continued with a season that included four different productions, including Max Perlman at the Roosevelt Theater in Meyer Ben Yehuda's new musical, Don't Worry, Brother. The show was described variously as "a comfortable evening of familiar horseplay," "a sentimental journey," with "some laughs, some dancing, some familiar jokes and, best of all, some warm personalities." Perlman was characterized as "the agile, beaming star, who uses his hat as an indispensable prop, and knows how to find rapport with the audience." 26
In 1964, Max Perlman moved up from the Roosevelt Theater, which was off Union Square, to the Anderson Yiddish Theater on Second Avenue to play the lead in Sholem Secunda's new American musical Good Luck. The production was described as 25% English and 76% Yiddish, and for the first time, English as well as Yiddish speakers were cast. 27 Perlman's hat and his "tremendous smile" were characterized as his "props" 28 The review concludes with the comment that "Good Luck may not be Fiddler on the Roof, which has gone even further in making concessions to English (100 %). But it does have pleasant settings, music and cast that will certainly make the evening seem as soft as a fresh bagel to the tried and true friends of Jewish vaudeville." 29 In 1966, Perlman returned to Argentina and, in 1967, he toured Argentina and Brazil with Shimon Dzigan. His absence from the annual Yiddish productions in New York did not go unnoticed. In May 1968, it was announced that "Mr Perlman absent from the Second Avenue Theater for two seasons will lead the troupe in the musical Never Too Late for Happiness 30 at the Actors' Playhouse at 100 7th Avenue in New York. 31 Although Perlman was praised for his role as the hero, the immigrant son, who learns how to live in America, the production was criticized. "The new show with its built-in appeal for its built-in audience, once again resists the theatrical innovations of the past half-century, with the exception, perhaps, of the electric light. Its mixed media are Yiddish and English, the two channels of communication that it uses generously, separately and in combined 'Yidlish.' You can teach an old teacher new tricks, but there are those who will be delighted with the ones it knows." 32
A year later in October 1969, the company were back at the Anderson Theatre, this time with the Israeli musical comedy by G. Yisraelev, entitled Oh What a Wedding! with music by Murray Rumshinsky and lyrics by Jacob Jacobs. The production was essentially an imitation of a bygone era, and in the tradition of Second Avenue, it lasted for three hours, almost till midnight. In the part of a schlemiel or simpleton, Max Perlman was said to "alternate the deadpan approach of Buster Keaton with the hat-bobbing, shoulder-shrugging antics of Menashe Skulnick." For the first time Guita Galina was absent from the cast and her place was taken by Menora Zahav, who played the part of the spoiled young wife. It was suggested that "perhaps an even better way to bring back the old days was to revive the best Yiddish musicals of the 20s instead of imitating them." 33
Perlman does not feature again in the New York Times until 1981. Whether this is because he did not visit or whether the productions were not reviewed—which seems unlikely—one cannot tell. Menora Zahav, who replaced Guita Galina, when she was no longer able to play young ingénue roles, only recalls performing with Perlman in New York on the one occasion in 1969.
In October 1981, Perlman participated in the production of Peretz Hirshbein's Dem shmids tekhter (The Blacksmith's Daughters) in celebration of the 100th anniversary of his birth. It was directed by Ben Bonus and Mina Bern at the Norman Thomas Theater. Perlman played the part of the old grandpa who scolds the blacksmith for reprimanding his daughters. The show was described as "tasteful and tasty, light as a matzoh ball, yet embodying the bucolic and artistic flavour so deftly imparted by Hirshbein, who died in 1948, but has been presented locally in English and Yiddish by revivals of his Grine felder (Green Fields). 34
Perlman's second last overseas tour and his last to New York, was in 1984 where the Shalom Yiddish Musical Comedy Theatre was performing Oy Mama! Am I in Love. Perlman starred opposite "the redoubtable and decidedly charming comedienne," Mary Soreano. The company was described as being caught between the "crosscurrents," of the old Yiddish theatre and its genuine interpreters—among whom were Reizl Bozyk, Max Perlman, Michael Michalovic, David Yellin, Yankele Alperin, and Shifra Lerer—and new young actors, such as Eleanor Reissa, who was praised for her comic performance as a noisy maid. The choreography was modern and an innovation was the use of two screens, one on each side of the stage, that translated parts of the dialogue into English. 35
Perlman's final tour was to Sydney in Australia in 1985. According to Menora Zahav, on his return from Australia in a state of exhaustion, it was discovered that Perlman was in the final stages of cancer. He died on July 23, 1985. He was buried in the cemetery in Holon next to his wife, Guita Galina, who had passed away of leukemia two and a half years earlier. 36
Songs
Perlman's songs can be broadly categorized as social satire, moralistic advice, and observations on life in general. 37 While his satire is biting and occasionally risqué, critique of rampant materialism is central to his assessment of contemporary Jewish society. His song, "Parnose un gezunt" (Wages and Health) stands out for its wholesome advice that for once is not interspersed with racy allusions.
"Parnose un gezunt"

A bisele parnose un gezint
O dos iz ales vos ikh vil atsind
Vayl ver darf zayn a milyoner
Raykhtum iz nit mayn bager
Ikh vil hobn nor a bisl glik
A shtibele, a heymele
A gortn mit a beymele
A bisele parnose iz genug
"A way to make a living and good health"

A way to make a living and good health
That is all I want now
For who needs to be a millionaire
Riches aren't my desire
I want just a little happiness
A little house, a little home
A little garden with a little tree
A way to make a living and enough
Perlman expresses similar feelings in, "Kh'vil nor a bisele" (I Only Want a Little Bit). While acknowledging that health and money in the bank are of primary importance, nonetheless he stresses the importance of love, and of our little land, "unzer kleyne landtshik." In contrast his observations in the song, "Vos mer men hot" (The More You Have) are reduced to slapstick with a man who already has twelve children insisting on having more, and a twice-divorced and twice-widowed man, is searching for his fifth "korbn" (victim)!
Israel is ever present and is referred to in the occasional verse or in the insertion of a Hebrew word. It is particularly evident in his love songs. In the song, Ahavah, he introduces the Hebrew vocabulary for love. "Ahavah is the word for love here" and "a kiss is neshikah." In "Kh'hob lib a meydele fun tel-aviv" (I Am In Love With a Girl from Tel-Aviv), he expresses his admiration for the young Israeli women. He concludes by apologizing to the local gentile women, the "shikses," that he cannot consider marrying them, "Vayl a sabra iz dokh do nor geroten mit mayn mamen!" (As only a Sabra here would satisfy my mother!). In the song "Mayn meydele mayn" (My girl), he translates one of the verses into Hebrew, "Yaldati, yaldati at levadekh be-libi" (My girl, my girl, only you are in my heart).
By far his most popular song in South Africa was "Benzin" (Gasoline), which was originally composed in Argentina. This song contains all of Perlman's typical strengths and/or weaknesses, depending on one's point of view. These are: a catchy tune, racy allusions, double entendre, and the local lingo, in this case, English. Besides commenting on the vital importance of the motor car in our daily lives, it criticizes Jews for their addiction to gambling, as well making fun of young women who marry old men for their money. The highlight of the song is its catchy refrain, which is still remembered today.
Ay vil men forn, ay vil men forn
Nor tsum forn, darf men ongisn benzin
Un az me gist nisht kayn benzin
Shtip aher un shtip ahin
Es geyt nit, es fort nit der mashin
But, if one wants to drive, if one wants to drive
But to drive one has to pour in petrol
And if one doesn't pour in petrol
Push this way and push that way
It won't go, the machine it just won't go
His song "S'iz nit dos vos amol iz geven" (It's not what it used to be), composed after the establishment of the State of Israel, contains many humorous observations on the transformation of traditional Jewish life that occurred in the first half of the twentieth century. Here nobody escapes Perlman's satirical observations. First is the young man whose marriage is not arranged as in days of old, instead he has multiple relationships before marriage. He flirts with one woman, accepts a dowry from a second, and cheats on the husband of a third. His next target is the lack of modesty of the young girls who wear skirts above the knee and clothes that are see-through and expose their bodies. Says Perlman, "they look as if they are doing a striptease in the street." While wives of yesteryear would rest during pregnancy, today they run around, play cards, and go dancing. "The wife wears the trousers now and her husband must nurse the baby!" Most memorable are his verses describing the changes that have taken place in the nature of grandparents. Whereas a grandfather used to have a long white beard and study the Talmud, today he is slim and plays football. In contrast to the grandmothers of old who used to wear a sheytl and stay home to read the Tsene-rene, the women's bible, today she is a coquette and dances rock and roll!
Perlman concludes on a more serious note, that of the radical change in Jewish national life brought about by the establishment of the State of Israel. While the Jew was once a pariah and regularly attacked and beaten up, today the Jews have a land of their own, are able to defend themselves, and are regarded as heroes.
Ultimately, however, his is the art of the mundane. He bemoans the frustrations of getting stuck in traffic ("Es toyg shoyn nisht mer" [I Can't Take It Any Longer]). He advises people not to get involved: "Misht zikh nisht arayn." He celebrates our favorite foods, herring and onion, and borsht with potato and smetana ("S'iz gut far mir" [It's Good For Me]). Other songs seem to have been inspired by popular American hits. For example, "Ven du lakhtst" (When You're Smiling) echoes the famous 1929 American song of the same name; while, "Zol es geyn vi es geyt" is reminiscent of Doris Day's "Que Sera Sera, Whatever Will Be Will Be."
In the words of his song "S'iz nisht dos vos amol iz geven" (It's Not What It Used To Be), the world has changed and Max Perlman has changed along with it. No longer is there a demand for highbrow Yiddish culture. Knowledge of the Yiddish language has considerably diminished. What remains is nostalgia and Perlman's light hearted style caters for this new reality. But his words are clever and his observations are astute. Moreover, he has charisma that is apparent in his songs, even to those who never had the opportunity to see him live on stage.
"S'iz nisht dos vos amol iz geven"

Amol iz a bokher, a bokher gevezn
Un er flegt nit makhen fun dem keyn shoyn vezen
Er flegt geyn mit a meydl erlekh un dan
Flegt er vern ir khosn un shpeter ir man
Nemt tomer a bokher fun haynt Veyst aleyn nisht vos er vil nit sheynt!
S'iz nisht dos vos amol iz geven,
S'iz nisht dos vos amol iz geshen
Mit eyner hot er a flirt, mit der tsveyter kokotirt, un a driter farred er di tseyn
Bay eyner nemt er nadan, tsveyter red er oyf ir man
S'iz nisht dos vos amol iz geven,
Amol iz a meydl gevezen a meydl,
Zi flegt geyen in a kleydl is dos gevezen a kleydl
Haynt geyt zi in naylon din vi papir,
Az me zet ale soydes bay ir shoyn fun frier
Dos kleydl iz kurtser vi di kni,
Nu zay a shtarker un kukt zikh nisht zi!
S'iz nisht dos vos amol iz geven,
S'iz nisht dos vos amol iz geshen
Haynt in gas ven zi geyt,
Mit di hiftn nor zi dreyt
Az men zol zi bamerkn in zin
Es zet oys on a shpas
Vi a striptiz oyf der gas
S'iz nisht dos vos amol iz geven
Amol iz a vaybl gevezn a vaybl
Zi flegt lign in kimpet shtil vi a taybl
Haynt krigt zi bay der kortn
Loyft tantsn un dan
Es felt nor in kimpet zol lign der man!
Az der vayb trogt di hoyzn atzind
Un der man vet nyantshn dos kind!
S'iz nisht dos vos amol iz geshen
S'iz nisht dos vos amol iz geven
Zi geyt in hoyzn arum,
Ongetsoygn umetum
Az ir meynt ot ot platsn zi shoyn
Farb di hor blondlekh-gro,
A la Bridget Bardot
S'iz nisht dos vos amol iz geven
A bord a shney vayse gehat ot a Zeyde
Di Bobe a sheytl un frume dem beyde
Di Zeyde flegt zitsen bay der Gemore in kloyz,
Un di bobe baym tsene-ve-rene in hoyz
Nemt ober bobe-zeyde fun undzer tsayt
Zey nis gor vi di yunge layt.
S'iz nisht dos vos amol iz geven,
S'iz nisht dos vos amol iz geshen
Der zeyde geyt glat razirt
Un di bobe kokotirt,
Vi a meydl mit meydlishe kheyn
Der zeyde shpilt in football,
Di bobe tantst rock 'n roll,
S'iz nisht dos vos amol iz geven Amolike Yidn flegn zeyer zikh plugn,
Un yeder gevagt gekent ot im shlogn
Gevezen oyf hefker in di gantse velt
Un hot im shoyn ergets keyn tsores gefelt
Nor haynt iz shoyn ales farkert
Der yid hot a land un a vert.
S'iz nisht dos vos amol iz geven,
S'iz nisht dos vos amol iz geshen
Haynt vagt keyner shoyn it,
Ontsufaln nokh dermit
Ver es bayst krigt bay unz in der tseyn
Shoyn bakant vi a held,
S'iz nisht dos vos amol iz geven
Derekh erets hobn zey,
Itst far in der armey
S'iz nisht dos vos amol iz geven.
"It's not what it used to be"
Once a young man was just a young man
And he didn't make anything of it
He would take out a girl sincerely and then
They would get engaged and later married
Take a young man of today
He himself doesn't know what he wants!
It's not what it used to be.
It's not how it used to be
He flirts with one, makes a pass at a second, and distracts a third
He takes a dowry from one, to a second he talks about her husband
It's not what it used to be
Once a young girl was just a young girl
She would wear a dress that was a dress
Today she wears nylon as thin as paper
So that all her secrets are revealed at once
Her dress is above her knee
Nu, be strong and don't look at her!
It's not what it used to be.
It's not how it used to be
Today when she walks in the street
She swings her hips
So that she should be noticed
She looks as if, its no joke
Like a striptease artist on the street
Its not how it used to be.


Once upon a time a wife was a wife
She would lie pregnant as quiet as a dove
Today she is out playing cards
Running off to dance and then
You'd think that her husband should be lying down pregnant!
The wife wears the trousers now
And the man will nurse the child!
It's not what it used to be.
It's not how it used to be
She walks around in trousers
Uptight everywhere
That you think she's about to burst
She colours her hair grey-blond
A la Bridget Bardot
It's not how it used to be.
A Zeyde used to have a snow-white beard
The Bobe wore a sheitl and both were frum
The Zeyde sat with the Gemore in shul
The Bobe with Tse'ena u-Re'ena at home
Look at the grandparents of today
They behave just like the young people.
It's not what it used to be.
It's not how it used to be
The Zeyde is clean shaven
The Bobe is a coquette
Like a young woman with girlish charm
The Zeyde plays football
The Bobe dances rock 'n roll
Its not how it used to be.
Jews of yesterday used to afflict themselves terribly
And anyone daring could beat him up
In the whole world he was a pariah
And nowhere did he lack trouble
But today it is completely different
The Jew has a land and a value
Its not what it used to be.
Its not how it used to be
Today nobody dares,
Still to attack us
Whoever bites us gets it in the teeth
Already known as a hero,
It's not what it used to be
They have manners,
Now because of the army
It's not what it used to be.