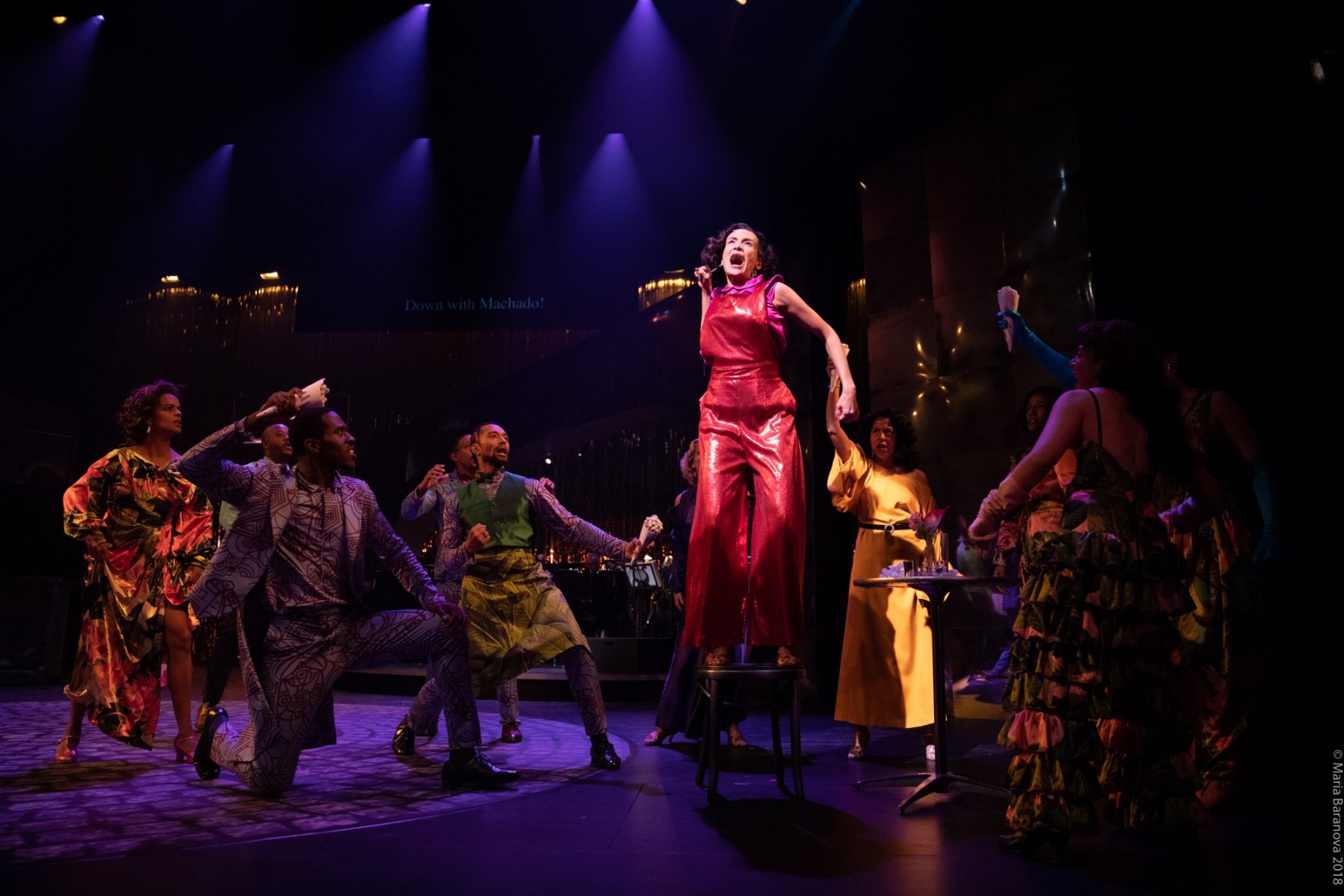 A Yiddish Poet, a Cuban Revolutionary, and a Historical Legend Walk Into a Bar: A Review of Hatuey: Memory of Fire
A brand-new opera, sung partially in Yiddish and partially in Spanish—and sometimes in both languages at the same time. A story that takes place in Havana in 1931, and in Cuba in 1511, and in Ukraine in the late 1910s—and over the course of the opera, the divides that separate these distinct settings seem to blur and collapse until these disparate times and places become one. A story about Cuban nationalism, and Jewish migration, and colonialism, and refugees, and what it means to create a homeland – or defend it – or be forced to leave it. A story about the complex relationships between individuals and their national identities and the lands where they reside.
This is Hatuey: Memory of Fire—the first fully staged new Yiddish opera in nearly a century, with music by Frank London, libretto by Elise Thoron, and directed by Mary Birnbaum, which opened at Montclair State University's Alexander Kasser Theater on September 14th. It's a wildly ambitious production that vacillates between compelling and confusing. I left the theater simultaneously marveling at the uniqueness of London, Thoron, and Birnbaum's concept and artistic vision and frustrated by its realization on stage.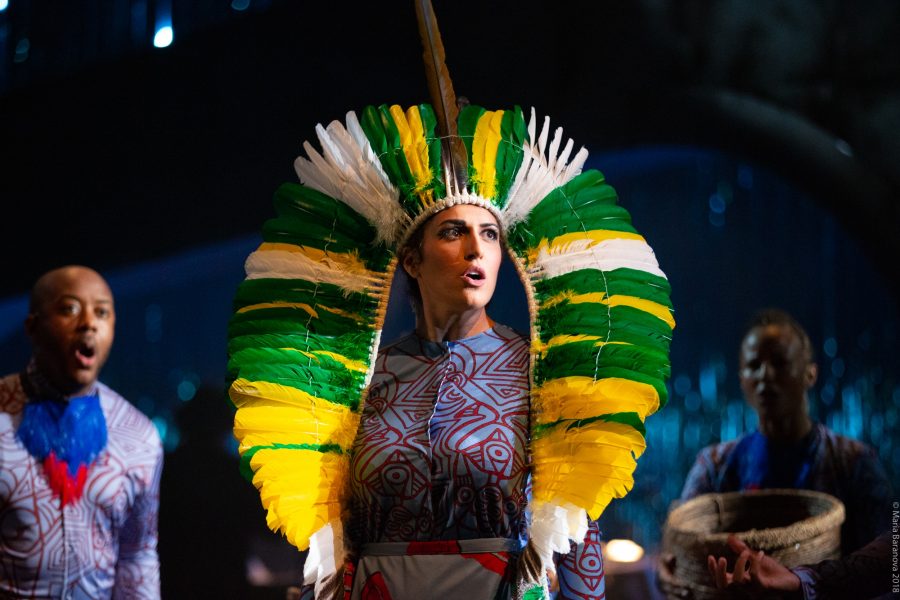 Hatuey was inspired by an 87-year-old epic Yiddish poem by Asher Penn, a Ukrainian Jew who fled pogrom violence in Eastern Europe and took refuge in Cuba. The poem tells of how the Taino chief Hatuey traveled to Eastern Cuba from Hispaniola in 1511 to warn the local indigenous tribes about the impending Spanish invasion. A more conventional playwright would probably tell these three stories one at a time, or nestled within one another. Instead, Hatuey moves back and forth with dizzying speed between the burgeoning resistance movement against the Cuban dictator Machado in the 1930s, Hatuey's resistance movement against the Spanish conquistadors and colonialism, and Asher Penn's experiences of anti-Jewish violence at the hands of pogromists in the 1910s—all set against the backdrop of Penn's epic poem. The concept of the show is fascinating, but too often it takes precedence over character development. What brought him to that nightclub in the first place? What motivates Oscar to start or stop writing his poem at various points in the opera?
I was most captivated by Hatuey during the few long sequences when the setting didn't change—when we had the opportunity to spend some time in a single moment—Hatuey's 1511 Cuba or Oscar's 1930's nightclub. But too often, I found myself jolted by the rapid switching between and layering of these worlds and characters. In the overly complex structure of this opera, where characters and settings are changing back and forth so often, it's difficult to feel much of anything for the characters. There just isn't enough time to really get to know them. In the end, none of the characters seem particularly real, and the effect is often jarring. There's a moment when Oscar declares his love for the nightclub singer Tinima (played with verve by Jennifer Jade Ledesna) that's clearly supposed to be tender and satisfying for the audience. But instead, I thought: I hardly know you. You hardly know each other. How could you possibly feel so strongly about each other? I had a similar reaction to a major revelation towards the end of the play (an important plot point that I won't spoil)—a sense that there was an intended emotional punch in a scene that simply didn't deliver on it.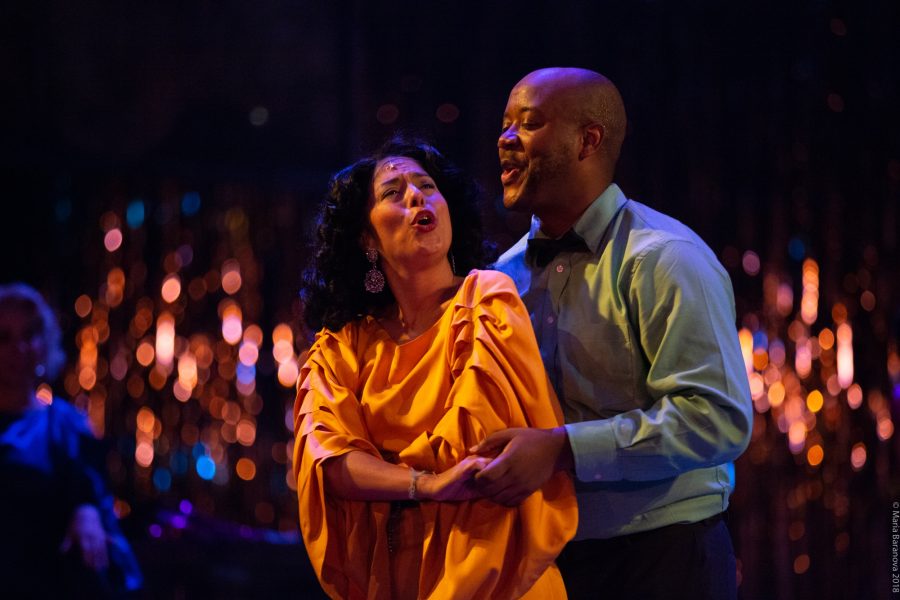 Despite these structural and dramaturgical flaws, the production still has a lot to offer to audiences. Frank London's musical score is a fascinating collage of klezmer and Cuban music. "La hija de la kasika," sung first in Yiddish, then in Spanish, then in both languages at once, is beautiful and haunting. Musically, the multiple words of the play merge together into a cohesive whole. It's klezmer like you've never heard it before, it's Cuban music like you've never heard it before—and it works.
The exquisite choreography by Maija García is another highlight. García's dancers seem to float and glide through the scenes, creating a captivating visual accompaniment to the unfamiliar pulses and beats of London's Cuban-Jewish fusion music. I was similarly charmed by Camellia Koo's cubist-inspired set design: a series of metal structures that effortlessly transitioned between a 1930s nightclub and a sixteenth century landscape. I found the set transitions to be some of the most beautiful moments in Hatuey: the moment that Hebrew characters spelling out the name "Hatuey" appear above the bar, or a canoe that descends from the sky, transforming the nightclub in an instant.
Hatuey raises vital questions in its unusual mashup of worlds and characters. What does it mean to have a homeland, or to lose one, or to embrace someone else's, Hatuey asks. What does it mean to take on a new national mythology as your own? What ties together histories of oppression and rebellion across cultures, nations, and time periods? What unlikely alliances can be forged in cross-cultural encounters? In a moment like ours, with a global refugee crisis and a resurgence of nationalism and xenophobia, these questions are perhaps more important than ever.
Read more about Hatuey here.
Citations
MLA STYLE
Caplan, Debra . "A Yiddish Poet, a Cuban Revolutionary, and a Historical Legend Walk Into a Bar: A Review of Hatuey: Memory of Fire." Digital Yiddish Theatre Project, October 2018, https://web.uwm.edu/yiddish-stage/a-yiddish-poet-a-cuban-revolutionary-and-a-historical-legend-walk-into-a-bar-a-review-of-hatuey-memory-of-fire
CHICAGO STYLE
Caplan, Debra . "A Yiddish Poet, a Cuban Revolutionary, and a Historical Legend Walk Into a Bar: A Review of
Hatuey: Memory of Fire
."
Digital Yiddish Theatre Project
(October 2018): Accessed May 29, 2023.