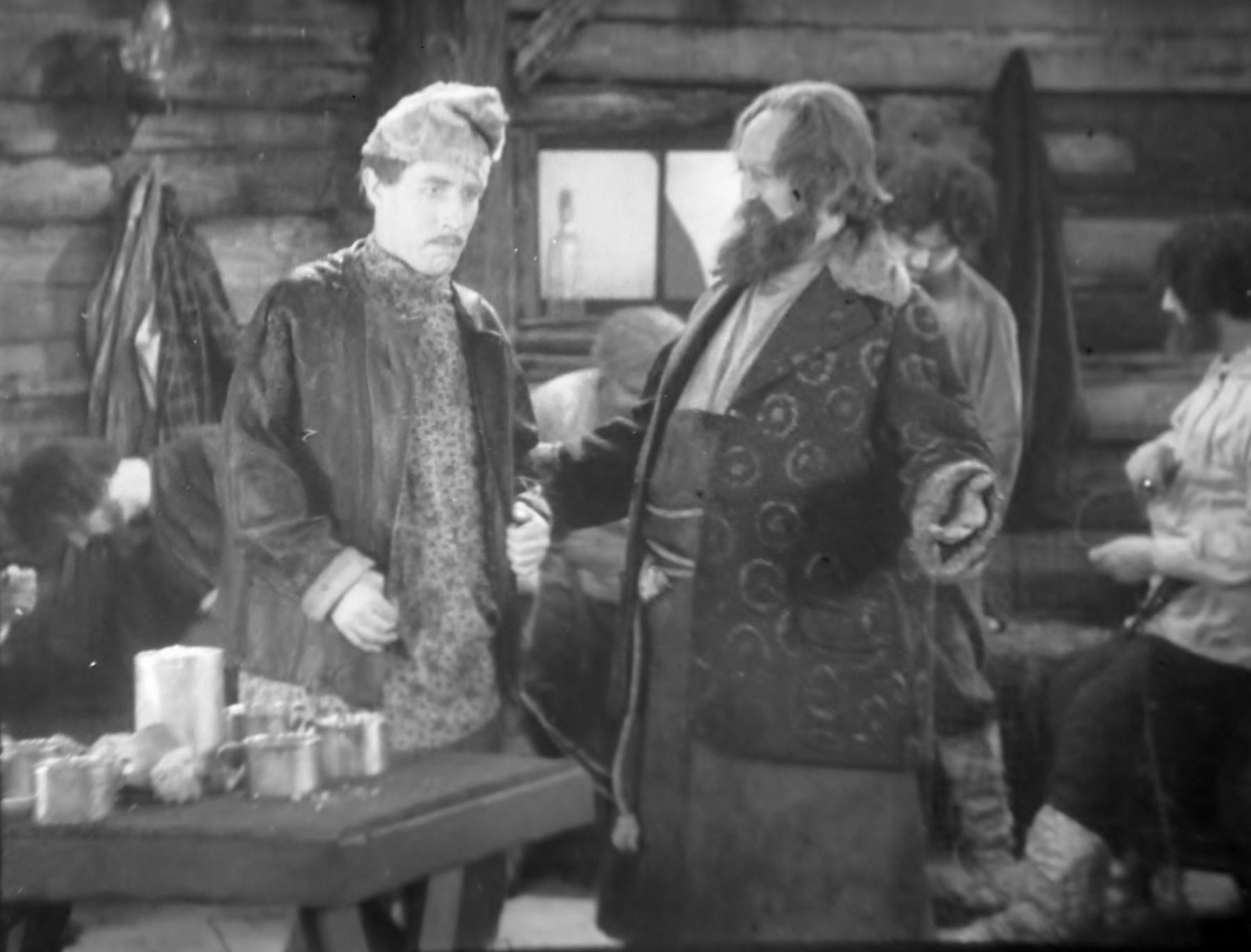 A Lost Film, Found
I'd never heard of him before, but I've found out a few things about Mark Schweid since February. In 1929, Schweid was 38 years old, he had emigrated to the U.S. from Poland in 1911, had written many Yiddish plays and poems, was prominent in Yiddish theatre, and appeared in four Yiddish films produced by Sidney Goldin. Several of these films have been preserved and distributed on DVD—you've probably seen them. What you haven't been able to see is Schweid's 1929 debut as a film director and his appearance in the lost film Wedding on the Volga. But now that film has been found.

Earlier this year, I was contacted by a woman who said her grandfather used to show movies in the 1930s around Savannah, Georgia. She had her grandfather's projection equipment and six reels of a 35mm film, the title of which was Wedding on the Volga. Were we interested in having it? Wedding is listed online as a "lost" film, meaning that no archives have listed it among their holdings.
Most film archivists will tell you that they dream of finding lost films and restoring them, so here was a golden opportunity to do that, if this material was what it was purported to be. I checked the American Film Institute (AFI) and British Film Institute (BFI) catalogs online and found that each had some plot information about Wedding but only listed a few cast members. I looked in books on Yiddish theatre and Yiddish films and they speculated that the film, when it is mentioned at all (remember, it's been lost all these years, so there wasn't much for authors to go on), might be a Russian film, or a Russian-American co-production, and it might be in Yiddish. It might be silent with intertitles, or possibly a sound picture. I was getting excited.
Here at the Walter J. Brown Media Archives at the University of Georgia's Special Collections Library, we're always interested in finding unique and unusual films in and of Georgia. One of the home movies in our collection turned out to be the earliest moving image of African Americans playing baseball (c. 1919); we never know what's going to turn up. So, of course I wanted to see the Wedding film reels for myself. But of immediate importance for safety reasons is that a 1929 film would be on nitrate film stock (assuming this wasn't a later copy on safety stock), which deteriorates if stored improperly, and is flammable. If the film was in bad condition, the local fire department would need to properly dispose of the film according to hazardous materials handling procedures. I couldn't just talk the owners through this on the phone, so I drove to south Georgia to meet them the next day.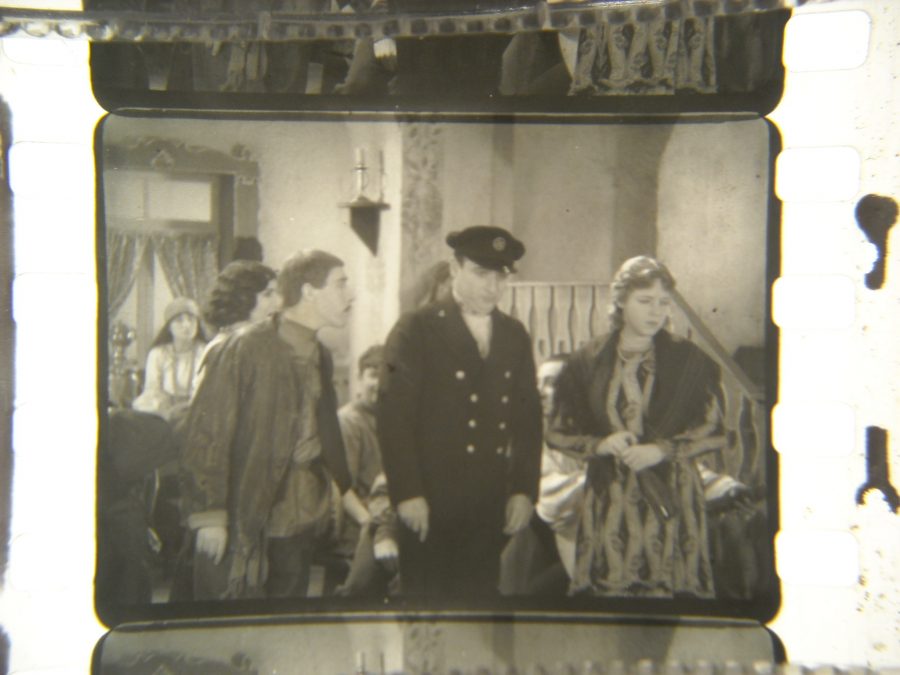 As it turned out, despite its 85 years of storage along the humid Georgia coastline, the film is in excellent condition. Dirty, to be sure, after a life in garden sheds and garages, but with very little nitrate deterioration. But though there were indeed 6 reels of film, my hopes for a full 1929 six-reel feature were dashed since one reel is from The Block Signal (1926), an early Jean Arthur film. What was left were reels 1 through 5 of Wedding on the Volga, with full credit information on reel 1 but no conclusion. Even more unfortunate is that, though this film was produced as a talkie, there is no soundtrack on the film itself. This was a sound-on-disc film but no sound discs were with the reels, and none appear to survive in known holdings. My hopes for an easy preservation task were dashed. Still, I accepted the donation, determined to find out more about Schweid and this film.
I began to research Schweid's career and the film's history to get a better idea of its rarity, its worth to scholars, and its situation on the cusp of silent-to-talkie film distribution and exhibition. I had to ascertain the costs of digitization only versus spending even more money on full film-to-film preservation, the cost of subtitling and whether adding that would be the right way to re-release the film, and even whether we should preserve a mute talkie beyond merely storing it properly for long-term survival. Who (besides myself) wants just to see the film moving with no accompanying soundtrack, and is that enough to justify spending our limited funds on digitization? Is Mark Schweid of interest to enough researchers of early talkies and Yiddish theatre history to draw some research?
The film was produced by Charles Penser, shot at Metropolitan Studios in Fort Lee, New Jersey, completed in December 1929, and distributed by Hollywood Pictures Corp. It is not a Yiddish film, but a romance of old Russia told in English, and the wedding appears not to be a Jewish wedding (no chuppah). Metropolitan was a "poverty row" studio where independent producers went to make their films cheaply, and was known for turning out educational, religious, & ethnic-themed pictures. They were on the sound bandwagon early, and by July 1929 produced both sound-on-disc and sound-on-film pictures. WEDDING screened in the U.S. in 1930 and at least once in London in May 1931. One of the two British reviews was decent but lukewarm, praising the sound. The second was decidedly unkind, complaining about the operatic nature of singing sequences, the poor recording, and the players' accents. ("[T]he villain talks American, the heroine English, the hero broken English (though he sings to his girl in Russian) …") By 1931, sound films had advanced enough for audiences to expect something fairly sophisticated. Important films released that year include The Public Enemy and Dracula, and the stars you'd read about in movie magazines included Norma Shearer, Barbara Stanwyck, Frederic March, and Spencer Tracy. Even Garbo talked now, though with a heavy accent of her own.
Sound films required longer shooting sequences where there was spoken dialogue, so multiple cameramen were employed. On this film, there were three: Bert Kann; Frank Zukor (aka Frank Zucker), who worked on the classic Yiddish film Uncle Moses; and Irving Browning, later a well-known still photographer with a long career. Sam Klein was the art director. The film uses four interior sets: a fishermen's shack, a tavern, the heroine's home, and a cabin. It can be seen as a filmed play, and this static staging limits the interest of some film scholars who appreciate daylight exteriors showing us city street scenes that no longer exist today.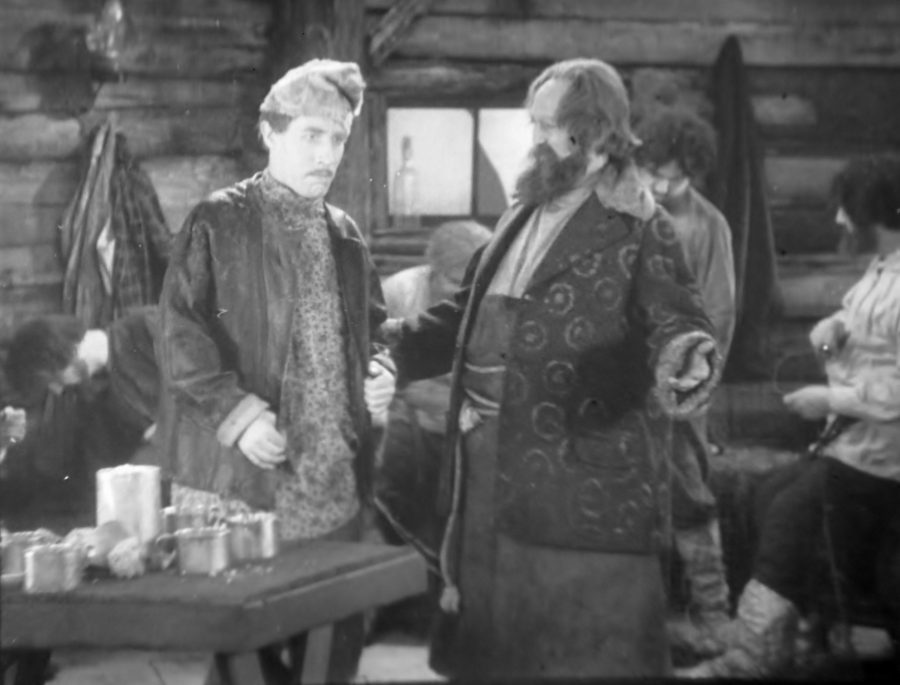 Still, none of the hard facts about the film and the little known about its production can answer my nagging question: Why did Schweid decide to take on the direction of a talking picture? And I really want to know who was the author of the story, identified only as "S. Rodnoy." A search of census records turns up very few Rodnoys and none with the initial S. That last name could be a typo; it could be "S. Rodney. The S. Rodneys are pantspressers and real estate agents and hairdressers. I'm interested in a Samuel B. Rodney who was a merchant in 1930 but was born in Warsaw and spoke Yiddish. Was he a writer on the side? A friend of Schweid's? Or is "S. Rodnoy" Schweid's play on a Russian phrase having something to do with the motherland?
Probably the best news from a colleague was that the New York State Archives' Motion Picture Scripts Division—scripts were submitted at that time for state censors' review—might hold a copy of the script, and they did. I now know what is being said (or was supposed to be said) in each reel, I know the ten Russian folk songs that were to be used in the film, and I know where the songs are supposed to fit into the story.
I would love to digitize the film, then create a screening/performance event where the lines are spoken by actors on stage, the missing reel 6 scenes are acted out to provide the denouement, and the songs are inserted into their proper places in the film. Reviews of the film cite the balalaika orchestra and Cossack choir performances in the missing reel, so live music would be a wonderful addition. Bruce Goldstein of the Film Forum in New York has written about such a project with an early Frank Capra film, The Donovan Affair, and this could be a model to emulate. I plan on working with UGA theatre and music students this fall to create something new from this incomplete film.
My archivist colleagues who have had experience with this sort of film find are intrigued, but the general consensus is that a B-picture that sank like a stone in 1931 and now has no sound is not worth spending much money on, especially since it isn't a Yiddish film. However, a small contingent agrees with me that preserving Mark Schweid's only known film directoral effort may have some value. Certainly, gaining a constituency that feels this way and who would put the footage to use is helpful in our decision-making.
What do you think?
————————-
Cast:
Mark Schweid
Mary Fowler
Arthur Albro
Henrietta Tilghman
John Gould
Marsh Irvin
Betty Simonoff
Misha Markoff
Paul Haakon
Antony Andre
Robert Norton
Zachary Martinoff
Songs:
Volga Boatmen
Go Ahead Troika
My Hay
Troika
Farewell My Village
Two Guitars
Stenka Razin
Black Eyes
The Merchant
Out For a Good Time
For Further Reading
Contemporary listings of the production and other information about cast, crew, and Metropolitan Studios found in film industry publications scanned and available through the invaluable Media History Digital Library website.
"Daytime Data." Buffalo Courier-Express, April 25, 1940. Accessed via www.fultonhistory.com.
Review, The Bioscope, v. 87, n. 1283, p. 46, May 6, 1931. Accessed via microfilm.
American Film Institute Catalog listing
British Film Institute Catalog listing
Goldstein, Bruce. "The Donovan Affair, or, How I Reconstructed a Lost Capra Classic."
King, Susan. "Frank Capra's 'The Donovan Affair' Gets a Live Soundtrack." Los Angeles Times, April 26, 2013.
Koszarski, Richard. Hollywood on the Hudson. New Brunswick, NJ : Rutgers University Press, 2008.
________. Fort Lee: The Film Town. Rome : John Libbey, 2004.

Pitts, Michael R. Poverty Row Studios, 1929-1940. Jefferson, NC : McFarland, 1997.
Citations
MLA STYLE
Compton, Margaret . "A Lost Film, Found." Digital Yiddish Theatre Project, July 2015, https://web.uwm.edu/yiddish-stage/a-lost-film-found
CHICAGO STYLE
Compton, Margaret . "A Lost Film, Found."
Digital Yiddish Theatre Project
(July 2015): Accessed Oct 02, 2023.